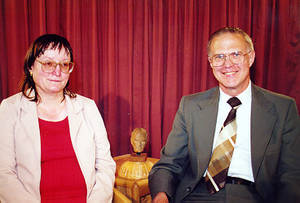 The Martin F. Fritz Endowed Chair in Psychology was made possible through the generous contribution of Martin Fritz's son and daughter-in-law, Dr. Kentner and Linda Fritz. Kent Fritz also has strong ties to Iowa State University, having received his B.S. degree in psychology before completing graduate studies in psychology at the Ohio State University.
Time, confined to units of minutes and hours, marched Martin F. Fritz through his 45 years at Iowa State University, from 1927 to 1972, and simultaneously through the Great Depression, World War II, the Korean War, the Cold War, the Vietnam War, the atomic bomb, the birth of television, of the computer, and of space travel. But perhaps, like Einstein, Fritz conceived of time not as a quantity, but as a quality, recorded by the luminescence of events, of one's present actions.
Fritz's illuminated "present actions" recorded the following events and accomplishments, materialized by his creativity and desire
Largely through his efforts, the Iowa State University Student Counseling Service, begun in 1939, spiraled from a sparsely staffed Testing Bureau to its current well regarded position as one of the more esteemed student counseling centers in the United States. During the early years, while already teaching 15 credits per quarter, Fritz volunteered, not just his minutes or hours, but his energy, imagination, and leadership to make counseling available to all ISU students in need. Ultimately, he became the center's director in 1956, a position he held until his mandatory retirement from administrative duties in 1967.
He organized and hosted the first meeting of the Big 8 Counseling Centers Conference in 1944, an organizational model years ahead of its time.
In 1952, Fritz was elected as the fourth president of the Iowa Psychological Association.
Fritz was a media pioneer in psychology, conducting a weekly radio show covering psychological topics for many years.
He taught countless Iowa State University undergraduate students, in nearly every course the department offered in its early years, and he advised numerous graduate students.
In addition to his enormous commitments to service and teaching, Fritz published or presented research findings in a wide range of areas. Given the current emphasis on accountability, it is interesting to note that in 1926, the first of Fritz's publications was titled, "The Variability of Judgment in the Rating of Teachers by Students."
The Iowa State University Department of Psychology is proud to name Room W117 the Martin F. Fritz Conference Room in recognition of his professional, public service, and educational contributions spanning a half century, and in gracious appreciation of the Martin F. Fritz Endowed Chair, which will strengthen the ongoing contributions of our department to the university, public, and professional communities into the next century.