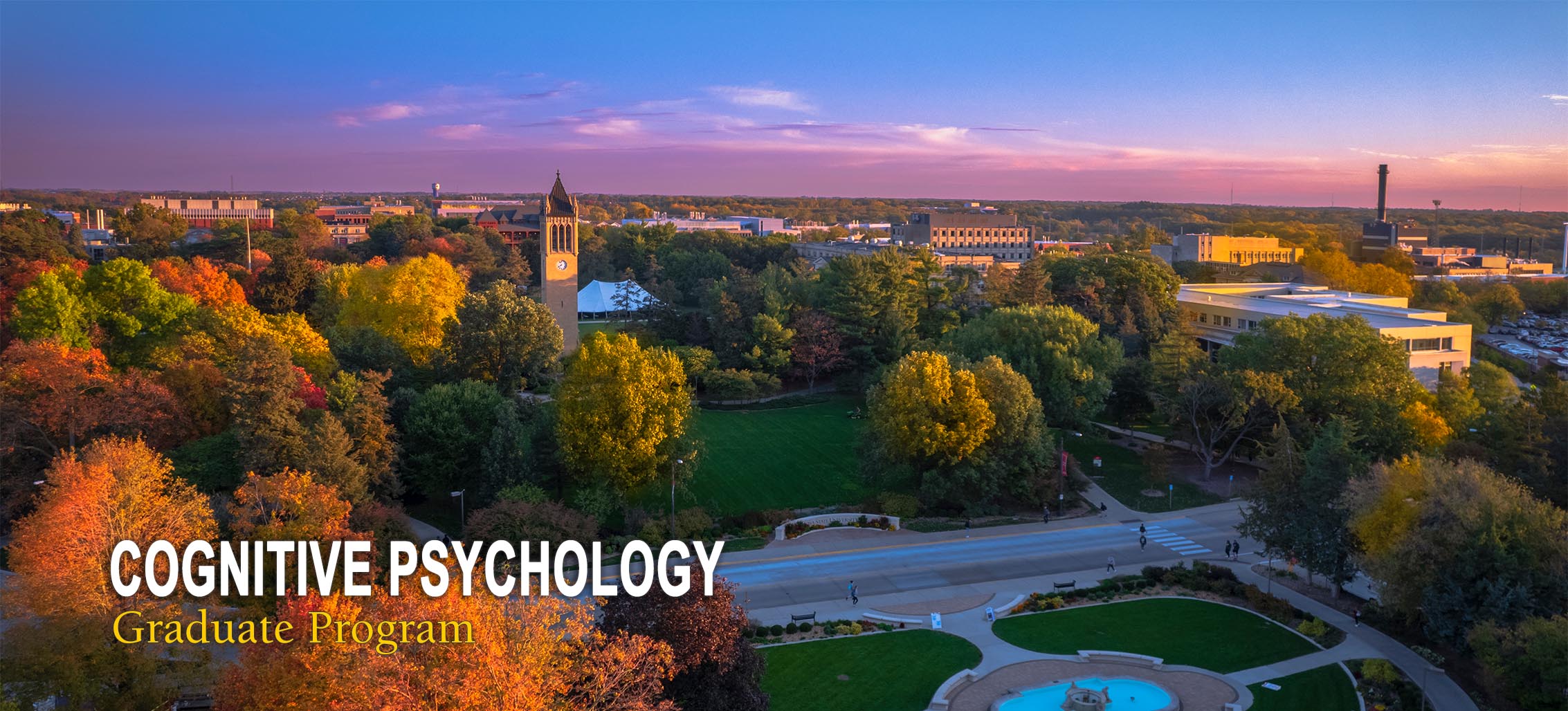 The Cognitive Psychology Program at Iowa State University provides students with a foundation in basic science and its applications to cognitive psychology. The primary goal is for the student to develop the intellectual and technical skills that are necessary to conduct independent research while at Iowa State and in future positions. Our program ensures that students will become familiar with the basic findings and theories in their areas of specialization through coursework and interaction with a mentor(s). In addition, active participation in research programs ensures that our students will learn how to design experiments, analyze their data, and disseminate their results through presentations at national conferences and publications. Although most of our students have pursued academic careers after graduation, a substantial number have also pursued careers in both public and private research sectors (see below for the positions that our recent graduates have obtained).
An important focus of our program is applying cognitive psychology to understanding practical problems. Many of our faculty members have applied research interest such as education, criminal justice, cognitive aging, and technology. We are also interested in solving everyday problems such as face recognition, spatial navigation, bilingualism, etc.
New graduate students select a major professor and become involved in that faculty member's research program during their first year of study.  Students gain an understanding of the research of other cognitive faculty through the weekly Cognitive Research Seminar, which is attended by all students and faculty in the program.
Dr. Jon Kelly is interested in recruiting a new graduate student for 2022.
Faculty Members
Affiliated Faculty:
Recent Alumni:
Kyle St. Hilaire (2022, Ph.D.) – Learning Scientist, Chegg
Alexander Toftness (2022, Ph.D.) – Instructor, Coe College, Author of Incredible Consequences of Brain Injury: The Ways Your Brain Can Break 
Lucia Cherep (2021, Ph.D.) – Postdoctoral Fellow, University of Arizona
Alex Lim (2020, Ph.D.) – Human Factors Engineer, Apple
Rachel Dianiska (2020, Ph.D.) – Postdoctoral Fellow, University of California Irvine
Krista Manley (2019, Ph.D.) – User Experience Researcher, Procore
Dominick Atkinson (2019, Ph.D.) – Postdoctoral Fellow, University of Idaho
Sara Davis (2018, Ph.D.) – Assistant Professor, University of North Florida
Larissa Arnold (2018, Ph.D.) – Assistant Professor, Clark University
Jason Geller (2017, Ph.D.) – to Lecturer, Princeton University
Zachary Siegel (2017, Ph.D.) – Clinical Scientist, Abbott
Lori Sjolund (2016, Ph.D.) – Human Factors and Usability Engineer, 3M
Miko Wilford (2015, Ph.D.) – Associate Professor, University of Massachusetts Lowell
Jessica LaPaglia (2014, Ph.D.) – Associate Professor, Morningside College
Matthew Erdman (2014, Ph.D.) – Analytics IT Manager, Trane Technologies
Interdisciplinary Opportunities:
Iowa State University has internationally recognized programs in neuroscience and statistics. Graduate students are encouraged to take advantage of these departments either through taking classes or through pursuing a quantitative certificate, a minor, a master's, or a dual doctoral degree.
Interested in our Program?
The primary requirement for admission to the cognitive psychology program is a strong interest in cognitive psychology research. A typical successful applicant has completed coursework in undergraduate research methods, statistics, and cognitive psychology. The ideal applicant would have research experience and a strong grounding in methods, statistics, and cognitive psychology.
Questions about the Cognitive Psychology Program should be directed to Dr. Shana Carpenter at shacarp@iastate.edu