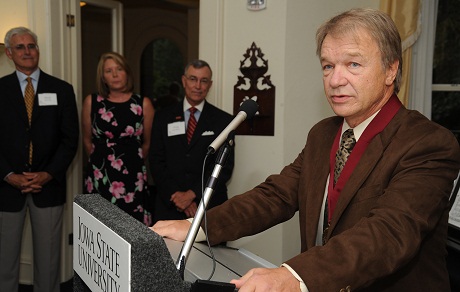 Distinguished Professor Gary Wells has done research on the efficacy and accuracy of police lineups for many years and has become one of the country's leading experts on eyewitness testimony. Because of his groundbreaking work, the Iowa State University psychologist has a new title: the Wendy and Mark Stavish Chair in Social Sciences. Wells is the first social science faculty member at ISU ever to be awarded an endowed chair.
ISU alumni Wendy and Mark Stavish of Leesburg, Va., provided funds to create the new endowed faculty position in Iowa State's College of Liberal Arts and Sciences. Wendy is a 1977 Iowa State graduate in sociology with an emphasis in social work. Mark Stavish earned a bachelor's degree in psychology in 1976 and a master's in industrial relations from Iowa State. In 2007 he earned a doctorate in education from the George Washington University.
"I feel humbled by this honor," said Wells, who has been on the Iowa State psychology faculty since 1989. "It was totally unexpected."
Wells' research on the reliability of eyewitness identification has led to improvements in the accuracy of eyewitness testimony. His findings have been incorporated into standard textbooks in psychology and law. In addition, his research-based proposals on lineup procedures are being increasingly accepted in law enforcement practices across the United States. His' research took on greater importance in the 1990s as DNA evidence became crucial to proving the innocence of wrongly convicted individuals.
"The DNA exoneration cases are primarily cases of mistaken identification," he explained. "Often overlooked, however, is that these innocent people had alibis and yet the alibis failed to prevent their convictions – hence the term 'true-but-failed' alibis. My students and I have published a couple of articles on this issue, but our resources have not permitted us to pursue in-depth programmatic work on this problem. With the help of these funds, we will open this new line of research. This will provide additional opportunities for both graduate students and undergraduates to be involved in this nascent research."
Mark and Wendy Stavish are West Des Moines natives. After graduating from Iowa State, Mark pursued a career in human resources. He began his professional career at Mobil Oil, spent more than eight years at Pepsi-Cola and retired as America Online's (AOL) executive vice president of human resources. They are both active in the Northern Virginia community and serve on a number of nonprofit boards and philanthropic endeavors. The gift is part of Campaign Iowa State: With Pride and Purpose, the university's $800 million fundraising effort.