Researching the possibilities
Learning about human behavior, conducting research and meeting students from different cultures has intrigued Zakiya Johnson ('23 psychology) since high school. After visiting numerous colleges, Zakiya quickly determined that Iowa State University's psychology major would satisfy her quest for knowledge in all of these areas.
Zakiya wasted no time getting involved at Iowa State. She joined the Psychology Learning Community, Womxn of Colour Network, Psi Chi honor society and Iowa State's club volleyball team. She also served as a study abroad ambassador, student-athlete tutor and member of the YWCA board of directors, all while maintaining a George Washington Carver Program scholarship. Currently, Zakiya helps students develop sound financial plans as a peer financial educator for the Office of the Student Financial Aid.
"I have learned more about myself as a leader and a student by participating in these clubs and organizations," Zakiya said. "I have also learned time management skills and how to effectively juggle important roles in various activities simultaneously."
Research focused
Zakiya's involvement on campus led to a love of research, thanks to a mentor who recognized her potential.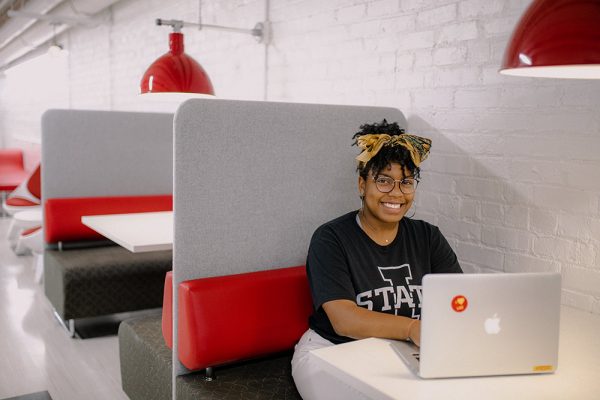 "A graduate student that changed my trajectory through college is Lisa Dazzell. She is the reason I got involved in psychological research, and the reason I want to pursue a career in counseling psychology," Zakiya said. "She took a chance on me as a freshman and took me under her wing, and has been such a positive influence on me as a person and a student."
Zakiya's work with Dazzell inspired her to seek other research opportunities. She gained clinical psychology experience with Nathaniel Wade, professor of psychology, at an on-campus counseling clinic. She also participated in the Moore Undergraduate Research Apprenticeship Program at the University of North Carolina, Chapel Hill, where she pursued her own research project under the mentorship of a developmental psychologist.
Opportunities abroad
Zakiya temporarily halted her research pursuits after leaving Iowa State's beautiful and bustling campus in spring 2022 to study abroad in Athens, Greece, fulfilling her dream of learning and living among students from various cultures. The experience deepened her love of psychology.
"It prepared me for my future goals because it cemented by interest in cross-cultural psychology," Zakiya said.
Looking forward
Zakiya's undergraduate experiences have validated her desire to earn a doctorate in counseling psychology following graduation from Iowa State. With that, she intends to either establish her own counseling practice or become a professor of psychology and continue to conduct research.
"All of these experiences have prepared me for my future goals because they have given me tools that I could only gain through hands-on experience," Zakiya said. "I've been able to learn about myself as a researcher and refine what my research interests are."
For students unsure of what to study, Zakiya recommends they consider a psychology degree.
"You're going to love psychology at Iowa State because they have so many resources for their students, and they encourage all life paths."