A purpose-driven life
Helen Neuzil ('22 psychology) approaches all she does in life with purpose and focus. Choosing an undergraduate major can be a daunting task. When deliberating over her many options, Helen used the same determined mindset.
"I researched, took quizzes and classes, and became involved in clubs and hobbies," Helen said. "After that montage, I stumbled upon an intro to psychology class through my local community college. Every aspect of psychology interested me, and although I wasn't sure I was making the right choice, I haven't looked back."
Choosing to attend Iowa State was an easier decision. In addition to having a top-notch psychology program, Helen fell in love with the beautiful campus and the warm welcome she received from faculty and staff.
"I love the campus and the people! When touring other universities, I just couldn't see myself living there for three-plus years," Helen said.
Learning to lead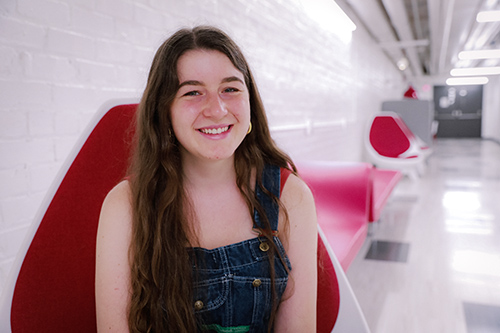 Helen has participated in numerous clubs and activities at Iowa State, but being a cadet with the Air Force ROTC (AFROTC) tapped into her true leadership potential.
"I did not consider myself a leader before joining Detachment 250," she said. "By the end of my time there, I led fellow cadets in a variety of settings almost every day. AFROTC significantly improved my professional, interpersonal and work-life balance skills."
Sadly, medical issues forced Helen to cut short her ROTC experience. But her involvement in the program had a lasting impact on her career goals. Helen plans to enroll in graduate school and earn a Ph.D. in clinical psychology, researching trauma, post-traumatic stress disorder and dissociative disorders.
"Eventually, I want to work with veterans, active-duty members and their families as an advocate, researcher and therapist," she said.
A research advocate
Helen credits undergraduate research opportunities with exposing her to a wide range of psychology careers.
"I enjoyed being able to connect with students and faculty within the psych department through research," Helen said. "I gained invaluable experience inputting data, using the [Statistical Package for the Social Sciences] software program, drafting an abstract and creating a poster presentation with the guidance of a Ph.D. student. I now have a better understanding of the cultural influence on human psychology. I'm excited to integrate this perspective into my future studies."
Sound advice
As a recent Iowa State graduate, Helen has a few tips for new psychology students:
Seize opportunities: "I didn't get the memo to apply for internships, research assistantships, scholarships, conferences, symposiums and jobs. The resources are out there, but it takes a lot of organization and research to find them. Many opportunities have strict timelines, so the earlier you find out about them and apply, the better!"
Communicate: "Communicate early and often with your professors, roommates and co-workers about what you're confused about in classes, when you're struggling to meet deadlines, if you need support or if you need to take a step back. Open and honest communication can be uncomfortable, but it's essential."
Try to have fun: "I wish I had done more of this!"